Fire hose "FORESTRY HOSE" 1" - 21 bar - 25m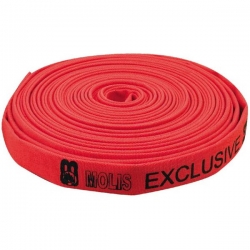 Diameter inside: 1"

Working pressure: 21 bar

Length: 25m
Price above applies for online or phone orders only.
Forestry fire hose is a lightweight single jacket 100% spun polyester hose lined with TPU elastomer.
Its tightly woven cover is specially treated for enhanced durability, reduced friction when dragging, and resistance to ozone, weathering, mildew, aging, and regular abrasion.
Meets NFPA recommendations for pump panel identification Forestry fire fighting, standby forestry fire protection. Due to its light duty characteristics, we do not recommend this hose be used for washdown or in construction, rental, plant, or mill service.
There are yet no reviews for this product.
Your cart has been updated
Contact us
PYRELLAS – IOANNIS NIK. MAVROUDIS
Athinon 12 and Plataion
P.C. 185 40, Piraeus
Greece
210 4220329
210 4125154
pyrellas@gmail.com
Members
Certifications