Our company was founded in 1984 under the name Swiss Cross Safety at Kallithea whose main activity was the trade of all types of fire safety equipment.
In 1987 extended its activity as fire extinguishers construction crafts, one of the leading companies in fire extinguisher construction site in Greece, on Cononos street in Piraeus as Mavroudis Bros OE ,with the brand name "PYRELLAS".
In 2003, it moved its headquarters to 14 Plataion Street and in 2013, the company was taken over by son John Nick. Mavroudis and renamed to PYRELLAS - IOANNIS NIK. MAVROUDIS, with more innovative ideas, aiming at upgrading the quality of its products and services.
In 2016 the company moved to the new facilities at Athinon 12 and Plataion, Piraeus.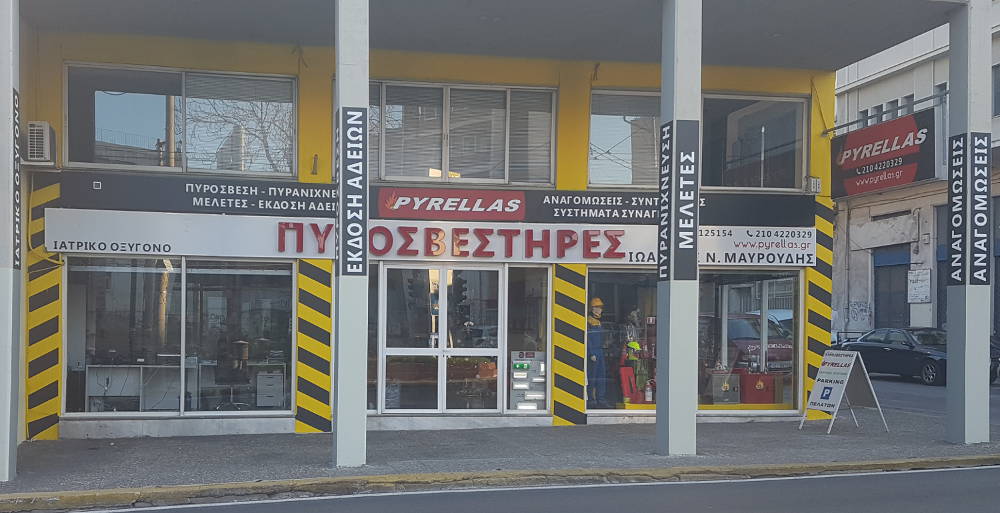 PYRELLAS is approved and recognized by EURO CERT, the second largest group in the world in the field of quality assessment and certification services with certification ID number 10.13.0038.
Προσφέρουμε προϊόντα πυρόσβεσης κάθε τύπου, συστήματα πυρασφάλειας, συντήρηση-αναγόμωση, πυράντοχες πόρτες, έλεγχο και επιθεώρηση πυροσβεστήρων, εγκαταστάσεις μονίμων συστημάτων πυρανίχνευσης και πυρόσβεσης κτιρίων, έκδοση πιστοποιητικών πυρασφάλειας, ανανέωση πιστοποιητικών, σύνταξη μελετών από τους έμπειρους μηχανολόγους μας.
Από το 2010 η εταιρεία μας επέκτεινε την εμβέλεια των δραστηριοτήτων της και στον χώρο του ιατρικού εξοπλισμού και αναλωσίμων ειδών.
Η 30ετή εμπειρία μας σε συνδυασμό με το άρτια εκπαιδευμένο προσωπικό διασφαλίζουν την παροχή υψηλού επιπέδου υπηρεσιών πυροπροστασίας.
Στόχος μας είναι η Ποιότητα, η Συνέπεια και η Ασφάλεια!!
Γιατί να επιλέξω την PYRELLAS ;
Διασφάλιση της προσωπικής σας ασφάλειας και περιουσίας.
Η 30ετη εμπειρία μας καθώς και το άρτια εξειδικευμένο προσωπικό μας σας εγγυώνται την έγκαιρη, έγκυρη και αξιόπιστη εξυπηρέτηση σας.
Όλα μας τα προϊόντα και οι υπηρεσίες συνοδεύονται από πιστοποιητικά καταλληλότητας.
Η εταιρεία μας είναι πιστοποιημένη από ιδιωτικούς και κρατικούς φορείς εξασφαλίζοντας την άριστη ποιότητα.
Δωρεάν μεταφορικά εντός Αττικής.
Έμπειρη ομάδα συνεργατών μηχανολόγων, ηλεκτρολόγων , υδραυλικών.
Εξυπηρετούμε : Βιομηχανίες, Βιοτεχνίες, Ξενοδοχεία, Καταστήματα, Κατοικίες, Εταιρείες, Νοσοκομεία, Χώροι εστίασης, Οίκους ευγηρίας, Εκπαιδευτήρια, Αθλητικοί χώροι, Σκάφη, Οχήματα.
Στο ηλεκτρονικό μας κατάστημα θα βρείτε όλες τις πληροφορίες που σας ενδιαφέρουν σχετικά με τα προϊόντα και τις υπηρεσίες μας.
Μη διστάσετε να επικοινωνήσετε μαζί μας για οποιαδήποτε διευκρίνηση.
Θα είναι χαρά μας να σας εξυπηρετήσουμε!!