Fire fighting, fire detection equipment and safety systems in affordable prices.
Installation, maintenance and recharge of all types of fire extinguishers. Rapid service in Attica.
Fire Detection & Extinguishing
In Pyrellas, we provide you with the most sophisticated products and solutions for fire detection and firefighting. All our products are accompanied by quality assurance and manufacturers warranty.
Studies & Certification
We design and draw up active and passive fire protection solutions, for prevention, control, response and suppression of the fire in emergency cases.
Fire Extinguishers Maintenance
Our company assumes responsibility for control, maintenance and recharge of fire extinguishers of all types, according to latest European standards and Greek legislation, in the most competitive prices of the market.
Secutity Alarm Systems
In Pyrellas we survey your site free of charge and we offer you a comprehensive security plan, along with quick installation in a reliable and cost-effective manner.
Special Offers
-23%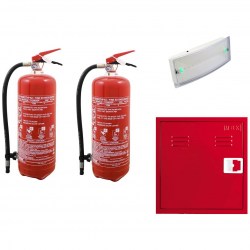 -13%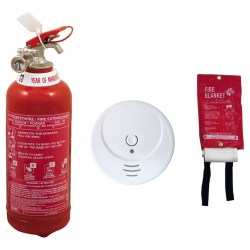 -33%
Σετ πυρασφάλειας για επαγγελματικούς χώρους
Το σετ πυρασφάλειας για χώρους εργασίας περιλαμβάνει:

2 φορητούς πυροσβεστήρες ξηράς σκόνης των 6Kg, ABC40
1 πυροσβεστική φωλιά με 20m λάστιχο
1 φωτιστικό ασφαλείας LED εσωτερικού χώρου


Price above applies for online or phone orders only.
Χαρακτηριστικά Πυροσβεστήρων
Χωρητικότητα
6Kg
Κατασβεστική ικανότητα
43A 113B C E
Υλικό κατάσβεσης
ABC 40% Ξηρά Σκόνη
Θερμοκρασία λειτουργίας
-30°C μέχρι 60°C
Μέσος χρόνος κένωσης
18,97sec
Πίεση δοκιμής
26bar
Μέγιστη επιτρεπόμενη πίεση
18,00bar
Όγκος εξοπλισμού
7,50Lt
Υλικό δοχείου
St12
Ύψος δοχείου
450 ± 5 mm
Διάμετρος δοχείου
160 ± 1.5 mm
Σπείρωμα λαιμού
30 x 1.5 mm
Υλικό κλείστρου
HPb59-1
Βαλβίδα ασφαλείας
19-26 bar
Βαφή
RAL 3000
Προσεγγ. Μεικτό βάρος
9,50Kg
Προσεγγ. Διαστάσεις
535 x 160 mm
Πίεση λειτουργίας στους 20°C
15bar
Βεληνεκές
6m κατά προσέγγιση
Συσκευασία
Χάρτινη Ατομική Συσκευασία
Χαρακτηριστικά Πυροσβεστικής Φωλιάς
Διαστάσεις
500 x 470 x 140 mm
Βαφή
Hλεκτροστατική Βαφή RAL 3000
Χαρακτηριστικά Φωτιστικού Ασφαλείας
Τροφοδοσία
AC 220-240V, 50-60Hz
Μέγιστη κατανάλωση ισχύος
2,7W / 3VA
Μπαταρίες (Ni-Cd)
3,6V / 0,6Ah
Χρόνος φόρτισης
24 ώρες
Ελάχιστη αυτονομία
90 λεπτά
Φωτεινή πηγή
12 λευκά LED
Φωτεινότητα (230V AC/Εφεδρεία)
40lm / 100lm
Εξωτερικές διαστάσεις
240 x 90 x 44mm
Βάρος
345gr
Εγγύηση
3 έτη (1 έτος για την μπαταρία)
Το φωτιστικό συνδέεται μόνιμα με την τάση τροφοδοσίας. Σε κάθε διακοπή ρεύματος το φωτιστικό τίθεται αυτόματα σε εφεδρική λειτουργία, ανάβοντας τα LED φωτισμού. Όταν επανέλθει το ρεύμα επιστρέφει στην κανονική λειτουργία του.
There are yet no reviews for this product.
Your cart has been updated
Free Shipping

We offer free shipping for all orders above 50 euros, in Athens, Piraeus and 11 more districts of Attica.
Rapid Service

The average delivery time is 4 working days from the time we receive your orders for entire Greece.
Certification

Pyrellas is approved and certified company by the certification organisation Bureau Veritas, with certification code PYRLPR 410, 06, 117 MAVR00106GRC.
Contact us
PYRELLAS – IOANNIS NIK. MAVROUDIS
Athinon 12 and Plataion
P.C. 185 40, Piraeus
Greece
210 4220329
210 4125154
pyrellas@gmail.com
Members
Certifications