Permanent system valve for IG-541 and IG-55 with gauge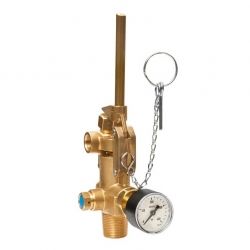 IG-541 and IG-55 fire suppression system valve. Manual, pneumatic or fuse activation.
(Fuse not included.)
With built-in pressure gauge.
Price above applies for online or phone orders only.
Inlet thread 27,8 x 14 (25E).
Fuse thread 1/4".
π (BAM), CE (VdS), EN 12094-4, EN 12094-10:2003-09 (gauge).
There are yet no reviews for this product.
Your cart has been updated
Contact us
PYRELLAS – IOANNIS NIK. MAVROUDIS
Athinon 12 and Plataion
P.C. 185 40, Piraeus
Greece
210 4220329
210 4125154
pyrellas@gmail.com
Members
Certifications