Stainless steel trolley vessel 25kg/lt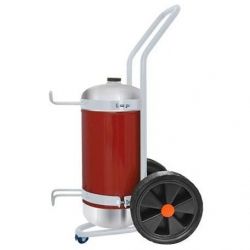 Stainless steel trolley vessel 25kg/25lt with separate carriage, heavy duty wheels and third wheel added on the front side of the carriage for easier usage-handling.
Price above applies for online or phone orders only.
Technical Characteristics
Capacity
25Kg / 25Lt
Testing pressure
30 bar
Max allowable pressure
21 bar
Equipment volume
30,0Lt
Cylinder height
720 ± 3 mm
Cylinder diameter
250 ± 1 mm
Cylinder neck thread
50 mm male G2
Dimensions
720 x 250 mm
There are yet no reviews for this product.
Your cart has been updated
Contact us
PYRELLAS – IOANNIS NIK. MAVROUDIS
Athinon 12 and Plataion
P.C. 185 40, Piraeus
Greece
210 4220329
210 4125154
pyrellas@gmail.com
Members
Certifications