Fire hose 1 3/4" - 8 bar - 20m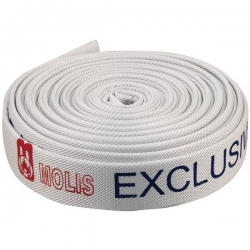 Diameter inside: 1 ¾"

Working pressure: 8 bar

Testing pressure: 24 bar

Bursting pressure: ≥ 50 bar

Length: 20m

Weight: 130 gr/m
Certifications: ELOT DIN 14811-1
Price above applies for online or phone orders only.
Twilled jacket for preventing stresses to get developed across the hose ensuring maximum strength and zero deformation.
Optimised performation internal lining with advanced specifications. High strength in tensile stress.
Thickness 0,4±0,03mm, thinner in comparison to common hoses, combining new mechanical properties due to non use of recycled plastic.
Tested one by one!
There are yet no reviews for this product.
Your cart has been updated
Contact us
PYRELLAS – IOANNIS NIK. MAVROUDIS
Athinon 12 and Plataion
P.C. 185 40, Piraeus
Greece
210 4220329
210 4125154
pyrellas@gmail.com
Members
Certifications